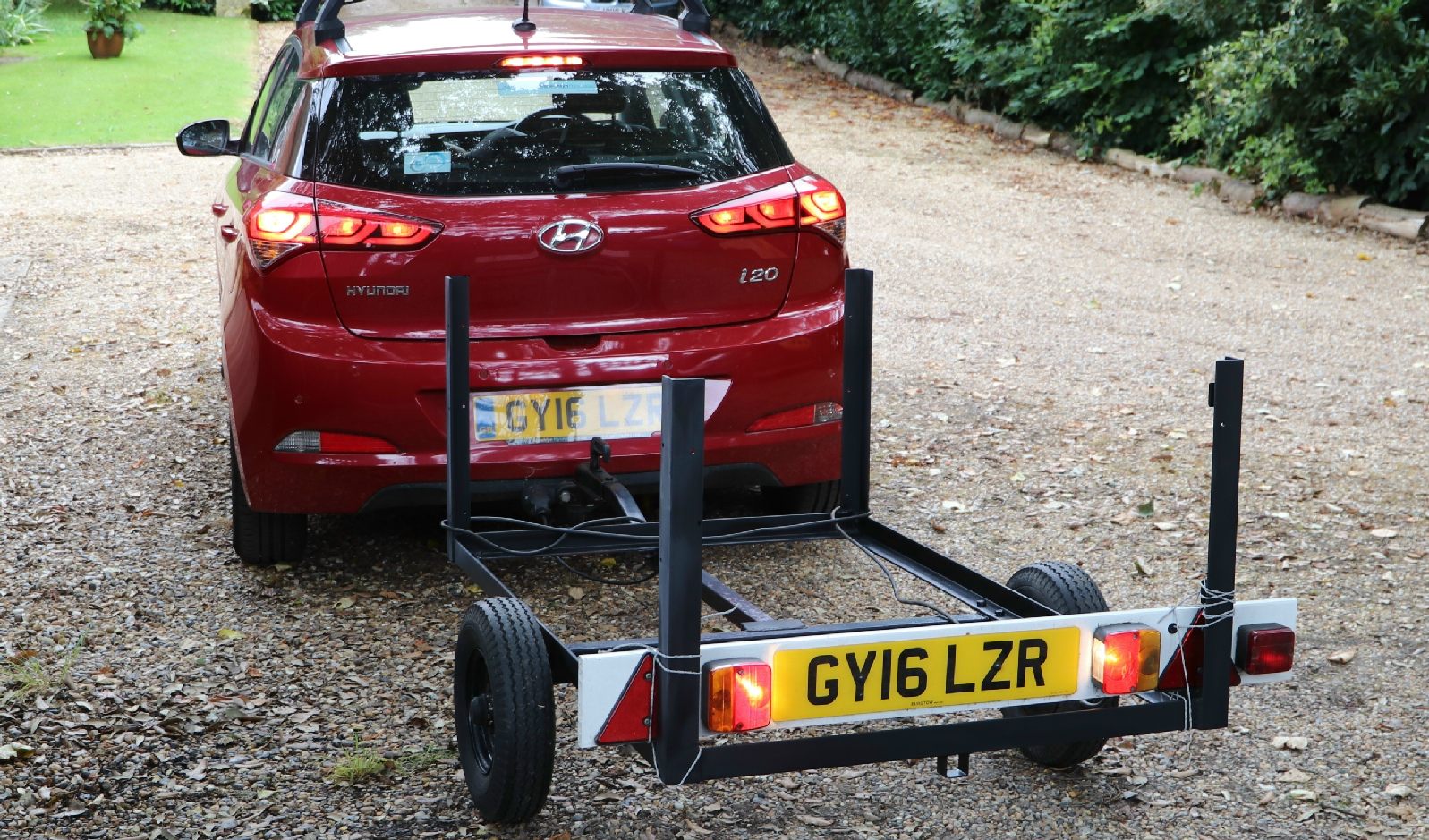 JOB DONE - This is the trailer being driven away, with temporary lighting to get home, where the wooden parts will be fitted, taking the opportunity of upgrading from tongue and grooved slats, to 18mm plywood, for a much stronger vehicle. Indeed, it was loading up the old frame with some heavy building machinery that caused it to collapse over a year ago.
It was a weekday in the Summer Holidays, in August, that I helped my Granddad make a new frame for his old trailer, that was so rusty, it had literally fallen into two parts, over the axle, when it was driven in to the drive by my workshop the previous year.
This was a team skills building project, that we'd been planning for quite a while. The idea is to learn how to work together effectively, to get a job done. Every person has their own special gifts. I'm still searching for mine. My Granddad was a navigation officer on BP oil tankers, many years ago. I only found out about that while working on this project.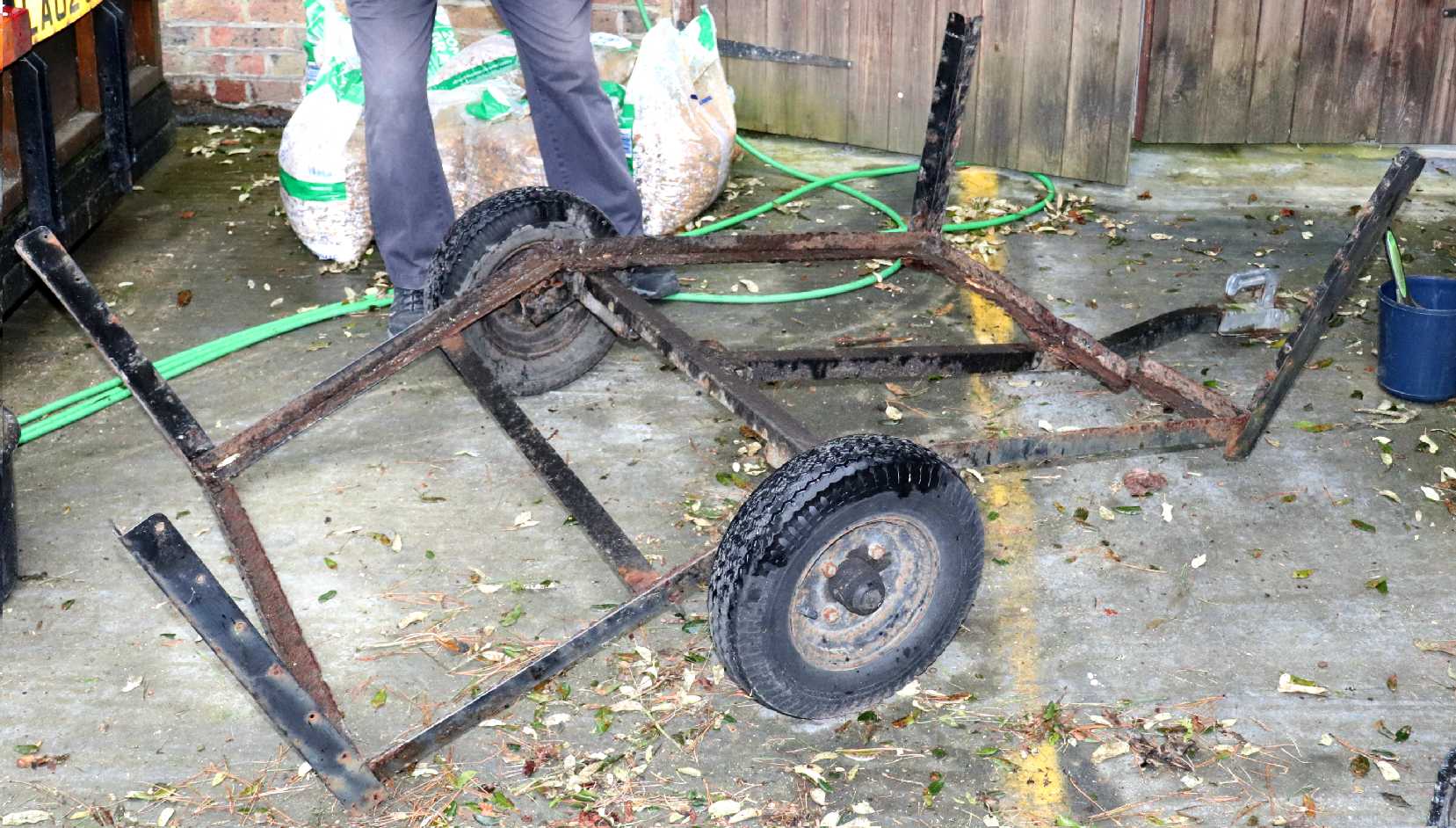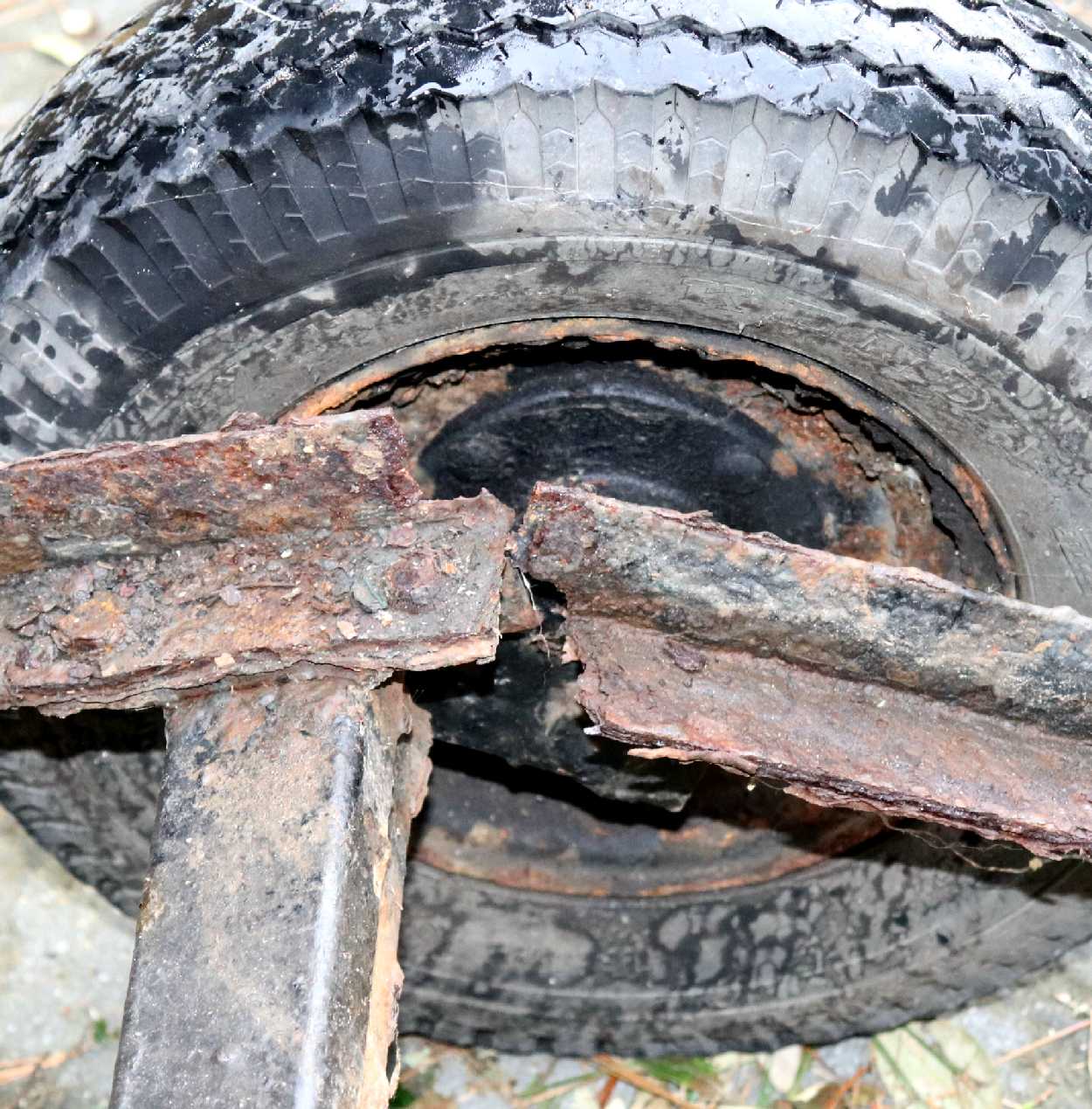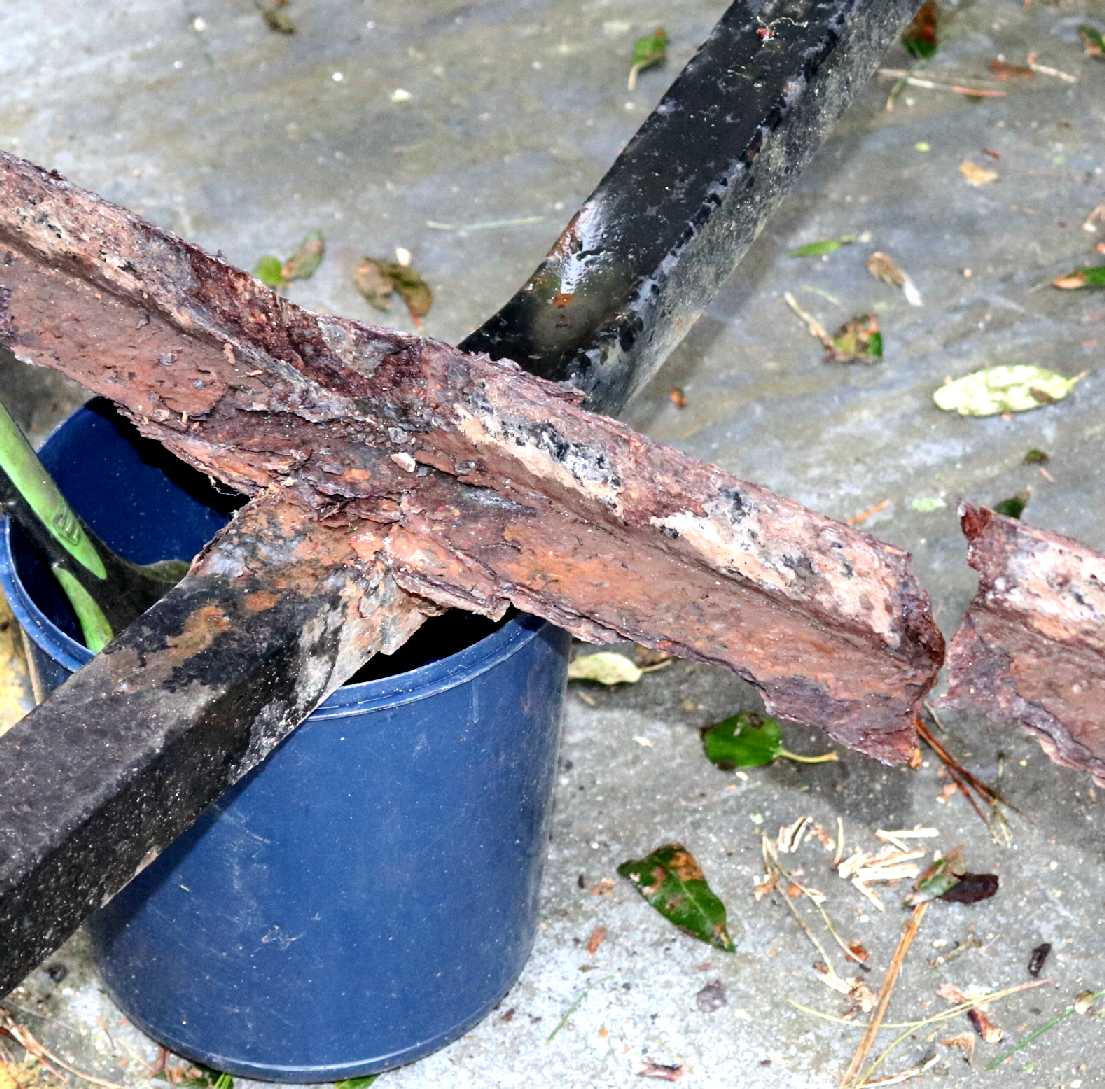 RUST BUCKET, MARCH 2020 - Nobody knew how bad the old trailer frame was until the woodworks were removed, and then literally, the frame fell in two. Fortunately, the axle was serviceable, and the wheel bearings had been replaced some years ago (by my Uncle) - after they were making grinding noises, from the bearings being dry rust coated. Saved by the Gong! Rust is the enemy of big bridges and steel ships. Rust also retires cars by the million. You can see that the chassis had been eaten through in several places, including where the drawbar was bolted to the frame to spread the towing load. Iron and steel rust as a reaction to water with oxygen. Most of us know rust as a reddish-brown flaky coat on metal and think nothing more of it. But rust is the term commonly used for the corrosion and oxidation of iron and its alloys, such as steel. Technically rust is Hydrated Iron (III) Oxide, also known as iron oxide (Fe˛Oł), as it is caused when iron reacts with oxygen and water - this reaction is known as oxidizing. If a piece of iron is left long enough, with exposure to water and oxygen, its rusting is inevitable. The way we protect steel from rusting is with special coatings as paints. The painting process usually begins with a primer and undercoat. Spray painting is used to protect cars, with very long lasting 2-pack formulations.
The 50 x 50mm 90 degree angle steel needed to make a new chassis, was ordered from Ebay, which seems to be cheaper and quicker for popular metals. Delivery took only two days, stored over a weekend for the following Tuesday, when we hoped it would not rain. It did drizzle a little, but that did not stop us.
Once a cutting-list was complete on paper, I was surprised how quickly we managed to cut all the constituent parts. It was less than an hour in total.
On top of the frame parts, we needed two machine drilled brackets, and four guides. After that it took very little time to assemble the basic frame, jig and square up, then weld. Jigging and getting the frame parts lined up, is the most important task, apart from welding.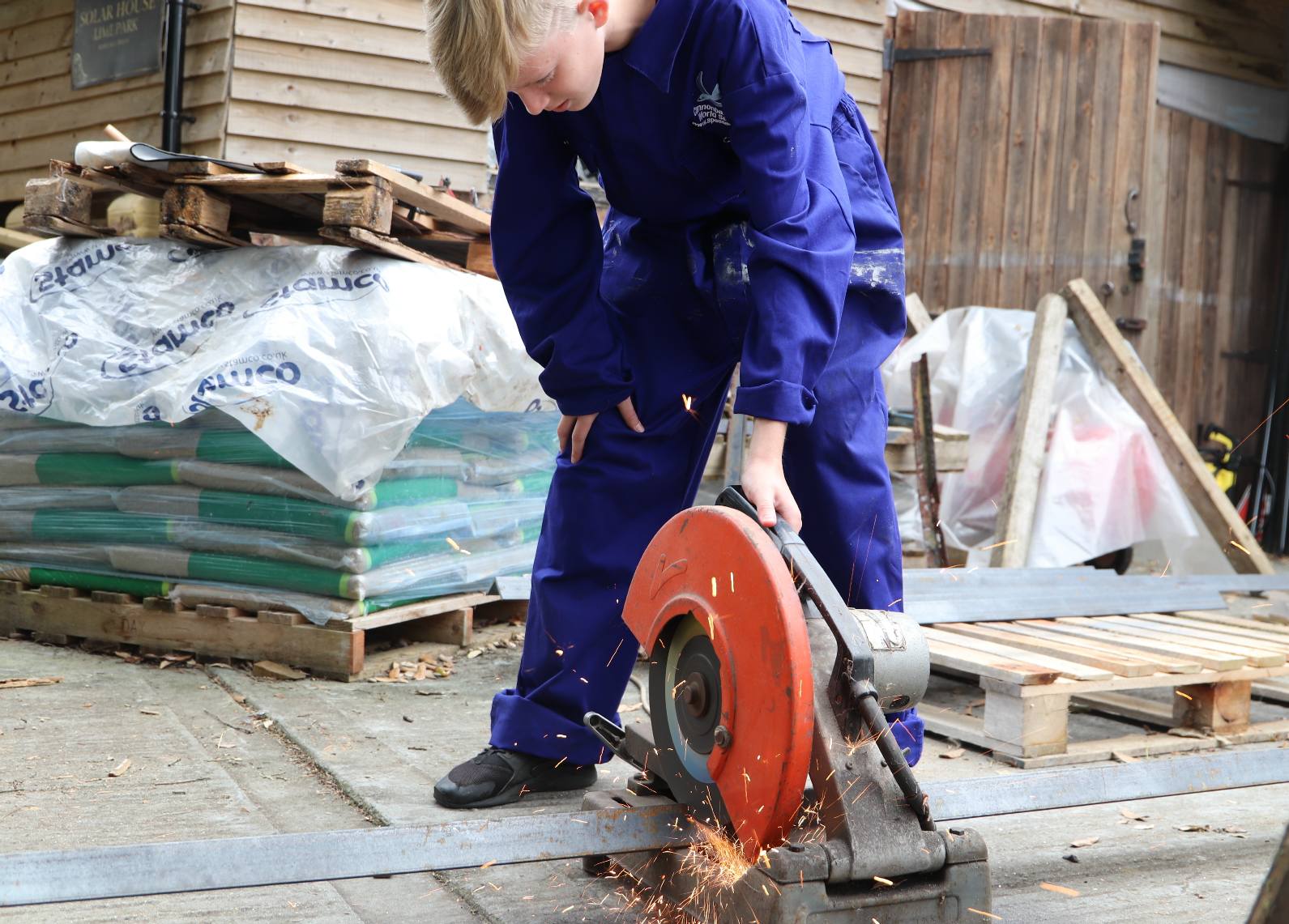 That is me trying out a steel chop-saw for the first time. It looks and sounds frightening, but was not as bad as I thought, once I had been shown how to stand and gently allow the carborundum disc to do the cutting.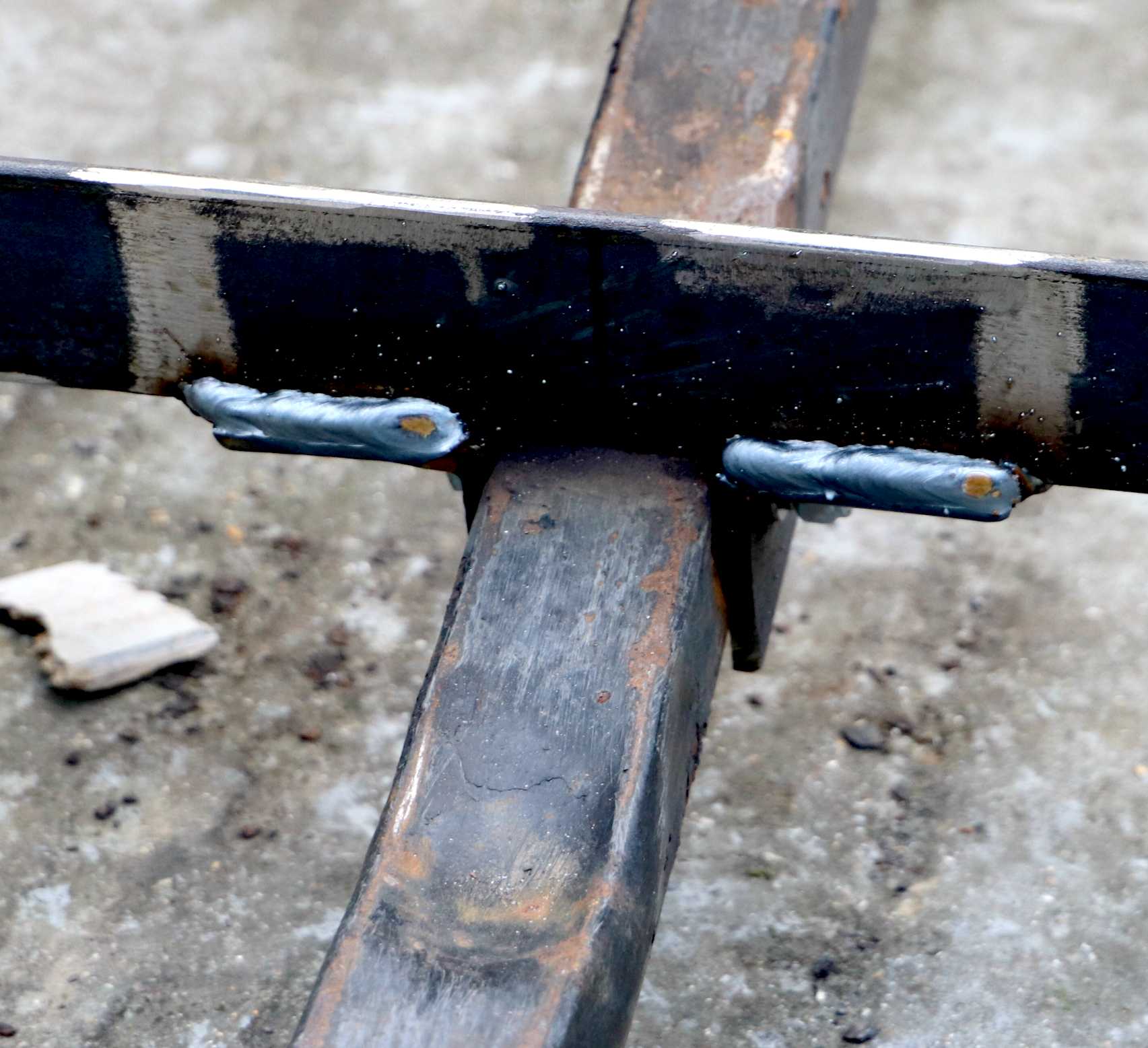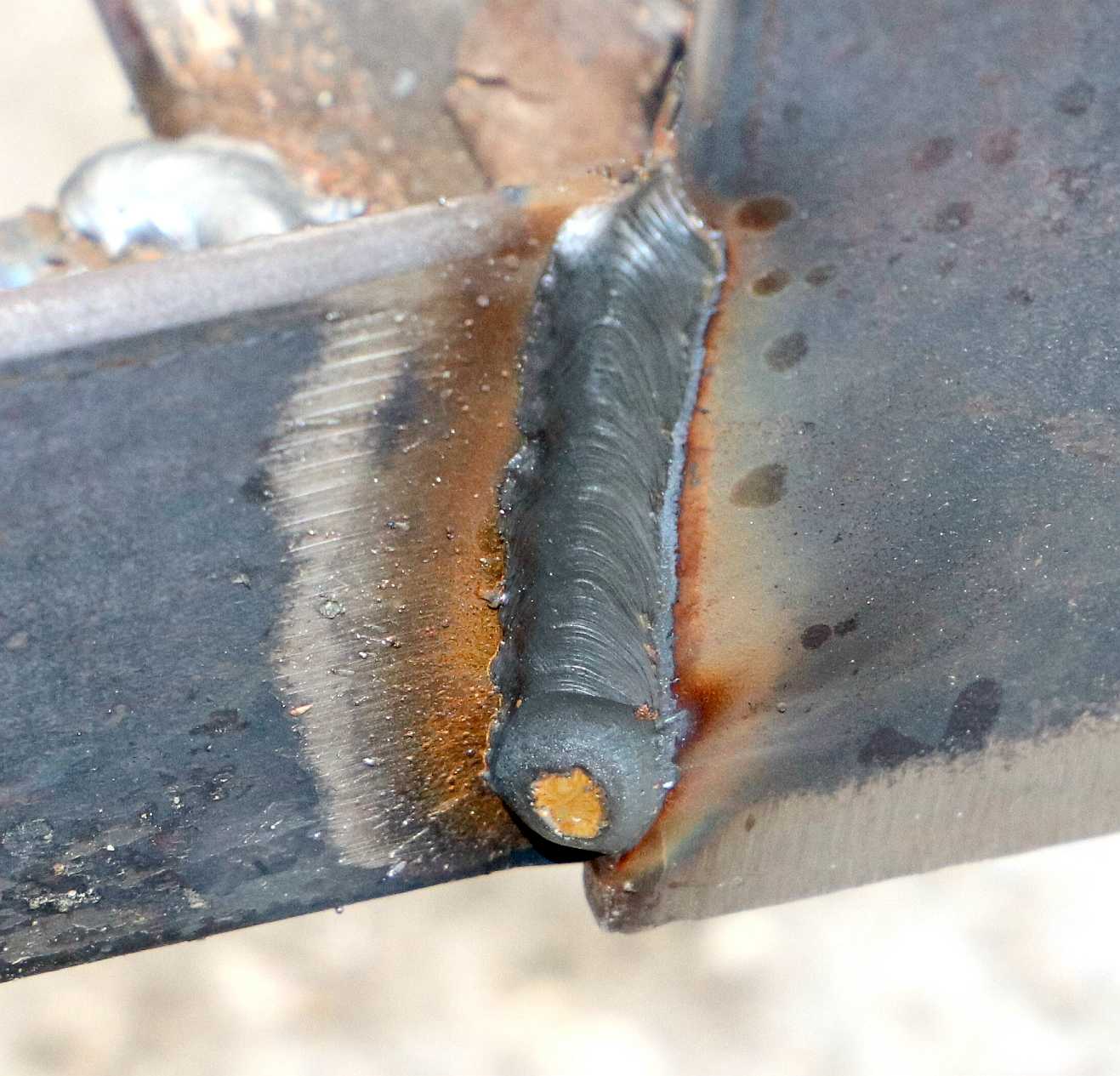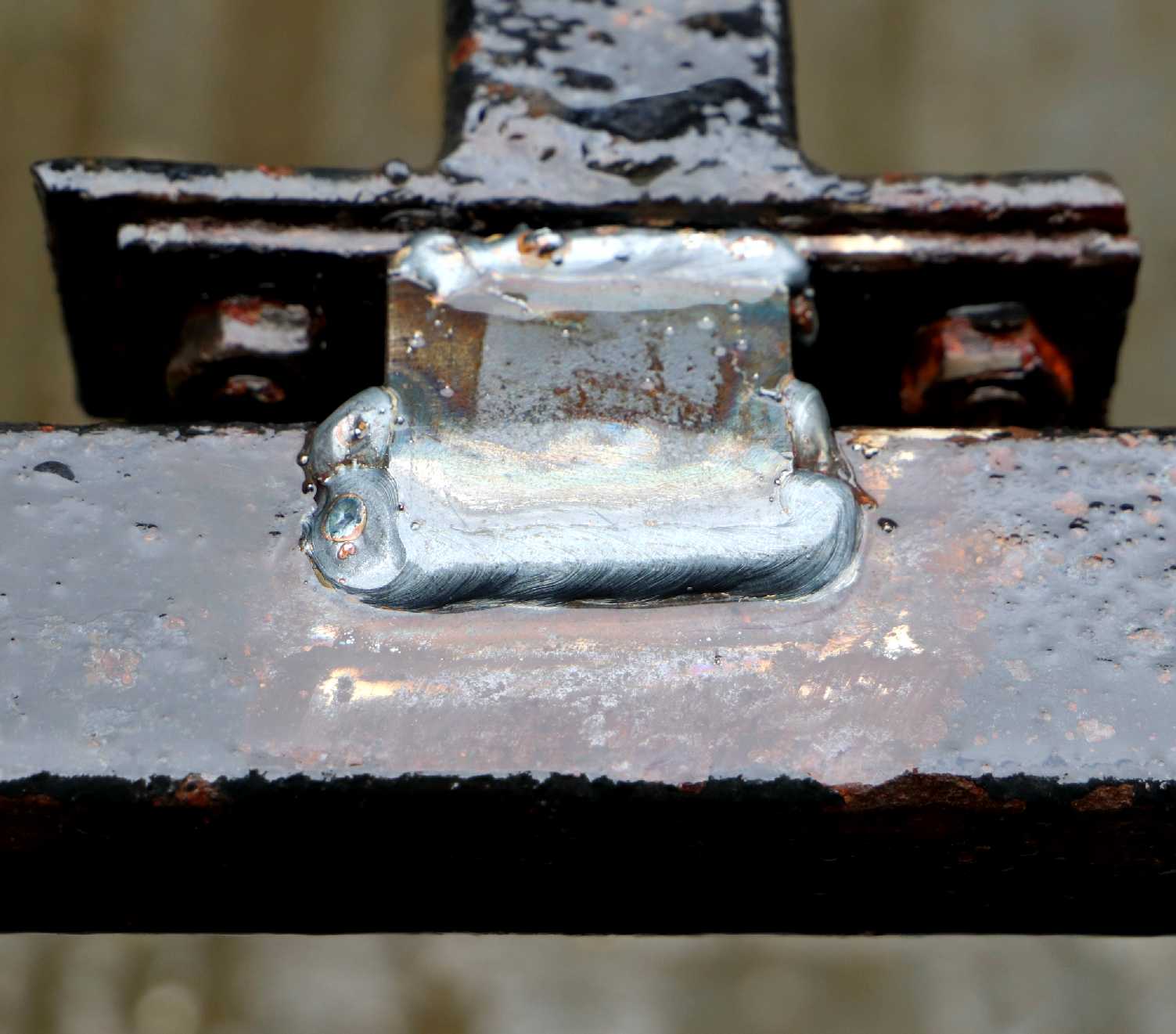 An assortment of welded joins, all completed using the Metal Inert Gas (MIG) method. Welding is expensive. The process uses a lot of electricity. Steel welding wire is relatively cheap, but decent welding kit is expensive, especially when you start welding stainless steel or aluminium. You also need the correct shielding gas, such as a CO2 mix with 5% Argon for mild steel, or virtually pure Argon for aluminium and stainless steel.
Steel is one of the backbones of industry. We need it to make washing machines and trucks. We need it to reinforce concrete, for factories and for skyscrapers. The invention of a way to make cheap steel, advanced human technology considerably. We also use steel for weapons of war, sadly.
In order to carry out the welding jobs, a welder with shielding gas needed to be set up to weld 5mm steel. We used 240 amps of current for this, and 8mm mild steel welding wire. We all had to wear masks to avoid getting arc-eye. It is important to set the wire speed correctly, so that you get full penetration. Too much current will blow holes in the metal, rather than fill the join being melted together.
Every end of the steel parts needed to be ground to get rid of the mill scale, back to clean steel. We used electric angle grinders for this. Finally, we were ready to weld. That is the quick part, with an agile welder, and a work piece we could spin over and on its sides, to get the best weld angles, it was a relatively easy job. When a work piece cannot be turned, the welder has to works underneath, upside down. This is where real skill and dexterity come into play. A welder has to be physically fit.
Fitting the axle took a little longer, because the original bolted 'T' moved a little, which gave us false readings, when measuring diagonally, as it moved. Once that was spotted, the axle was clamped and marked, to be able to drill the holes in the new frame. Then the axle was bolted to the frame all nice and square. We added a bit more steel to reinforce the original axle, but otherwise, stuck to the original design, other than beefing up the members.
The whole fabrication process took less than a day. Painting with three coats: primer, rust inhibiting red-oxide undercoat, and satin matt-black topcoat, took almost as long. If you include scouring the steel to get a good key and drying the workpiece.